---
This will be brief because a) I did not post about this on the original build thread and b) I'm writing this retroactively. (Edit: Nope. After finishing and reading through, of course I didn't make it brief…)
First the facts. Thankfully I do have records of all my trips to the gas station. I started tracking it a couple months after buying through an app called Fuelly, check it out here. According to the log book, I tracked a total of 11,143 miles on July 8, 2018, close to the 2 year date. With the mileage I get, I probably spent a whopping $150 or so total for gas in the entire year.
---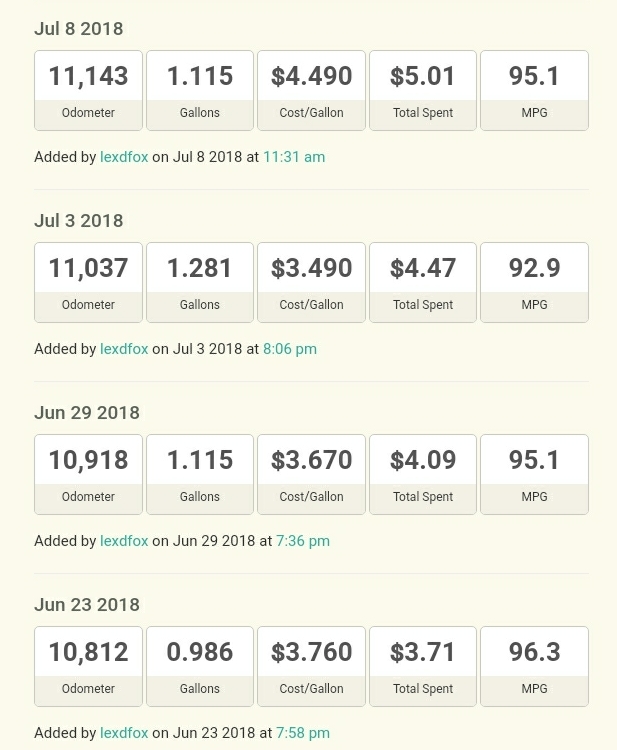 ---
Assuming I put in another $1,000 into it (gas, insurance, mods), my new cost per mile is about $0.51, a nice mark down from the $0.82 I posted to Facebook.
As far as I can recall, the grom didn't change much in the second year. I did a lot of things to it in the first few months which took care of my general gripes with the stock form. However, the one thing I did do in the second year made the most impact: suspension.
The stock suspension setup on the grom is weak, putting it lightly. I'm not a heavy guy, but I could still bottom out the front by just sitting down. It was bad, more so on the move. To cure this, I went with Ohlins springs and dampeners in the front and a YSS 2 stage shock in the rear. The stiffer springs made a massive difference. It made the bike so much more stable in a corner, very confidence boosting. A solid investment. If you have a grom and haven't touched the forks I urge you to do so. A couple of friends rode my bike after the suspension was complete and they confirmed it was a night and day difference.
Other than that, I painted the bike seafoam green. Plasti-dip to be exact. I was getting tired of the red and wanted to stand out a little more. It was a long process, with probably 9 coats total? It looked great after.
My feelings on riding the grom daily did not change, still love it.
In summary: 10/10 would buy again.
---