Officially started the build with a new set of handlebars. I was happy to see that the stock bars are fat bars (1 1/8th inch rather than 7/8 inch) because that meant I could go right to ordering a set of protaper CR high bends. I used to not care about bars when I had dirt bikes, but I remember my YZ used to have a set of Carmichaels. After getting off the track, even as little as 3 laps, my arms were absolutely shot. Soon after I got my CRF450 which had CR high bend bars and I could ride with zero arm pump. I wasn't sure if it was the bars or maybe that the CRF vibrated less. But to be sure I swapped the bars and who knew, I was finally comfortable on the YZ!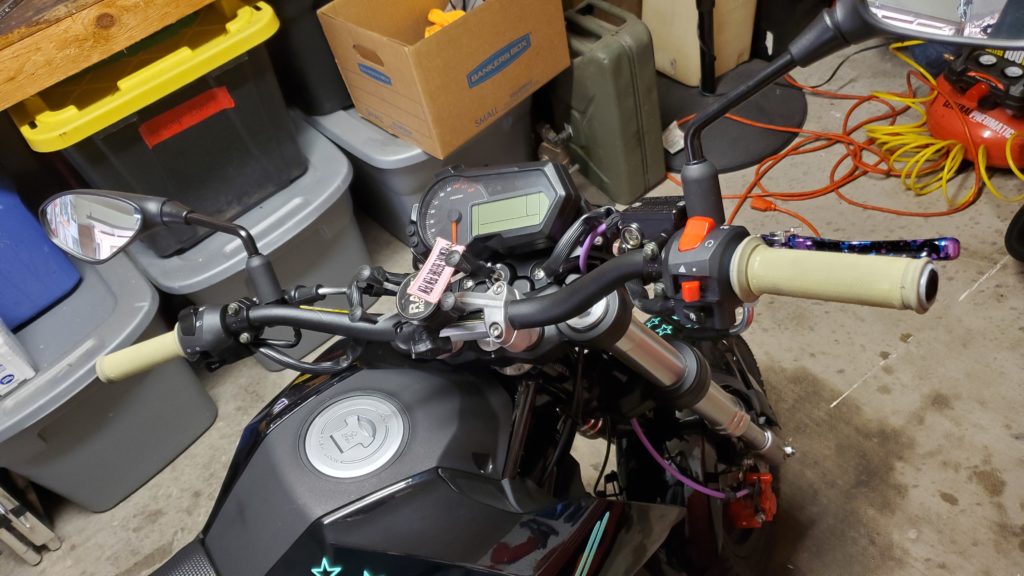 Because of this discovery, I decided that any bike I have should have the CR high bends. The bars really help the comfort, but also the look! The black bars add to the murdered-out look of the whole bike.
The levers also got replaced, the stock brake and clutch perches don't quite seem to fit, they're a bit larger and as a result the levers wiggle up and down. I found some new levers online that really have some color to them (mostly the reason I chose these). Unfortunately when I put the new ones on, that up and down play was still there. I remedied this by adding a washer in between the perches to thicken the width of the lever. This helped a lot! It's amazing what a difference there is in lever feel when things are tightened up.
In a nice turn of events, I happened to have a set of kevlar grips that I already have on the grom. This plus the exact same protaper bars make them a nice pair of mini moto twins!